Začalo to zcela nevinně. Prostě jsem se sbalila a ve středu na pátou hodinu večerní jsem s kufrem, baťohem a další taškou s dekou dorazila na místo, odkud nám měl odjíždět bus... A taky jsem se tam objevila - kupodivu včas. :D
Hned jsem se setkala s jednou kámoškou, která měla taky kufr. XD Ale o dost menší než já.
Tak jsme se tedy usadily do busu a vyčkávalo se, co bude následovat. Mno, po páté jsme opravdu vyjeli! Dokonce i s průvodcem, což jsem nečekala, ale budiž. Plus ještě nějaký podivný týpek. We have no idea who was it... :D
Celý článek
---
Vyrazili jsme směrem Bruggy - Belgie! Průvodce nám řekl, že cesta bude dlouhá a že máme co nejvíc spát.
My samozřejmě začaly kecat. Po nějakých X hodinách kecání jsme se rozhodly pro nějakou hudbu. Pustila jsem Eda - I See Fire a také další písně (a říkadla xD).
Nakonec jsme ulehly ku spánku.
Jenže...
Spaní v buse, jeden by řekl, že to v celku jde, ale... Je to hrozný! Vůbec se to nedá, všude to tlačí, nemůžeš si lehnout, jelikož ten za tebou by tě zabil... Je to prostě hrozný, ale nějak jsem trochu hodin naspala. Okay, tak tři - čtyři. Tím pádem jsem teda byla ráno úplně mrtvá, ale to už je zase nedůležité.
Bruggy už byly skoro před námi, všude kolem Belgie.
V Buggách jsme vystoupili a vyrazili na celodenní výlet do města. Fotila jsem všechno a všude. Ovšem místo památek, které byly teda naprosto úžasné, nás velice zaujal malý hnědý psík.
Selfie s kostelem už ani nemusím zmiňovat, že? ;)
Návštěva náměstí, focení ulic a odpadků, jídla a tak dále. Na náměstí jsme dostali rozchod, koupily jsme si kafčo a zašly do "diamantového zdcadla", kde byla sranda jako něco. :D Zašly jsme si dvakrát do obchodu, kde dávali čokoládu zdarma. Byla teda vynikající! :D
Jelikož jsme celou noc téměř nespali, přišlo nám divné, že je teprve deset dopoledne. Myslela jsem, že už bude tak šest, ale ono né... Deset.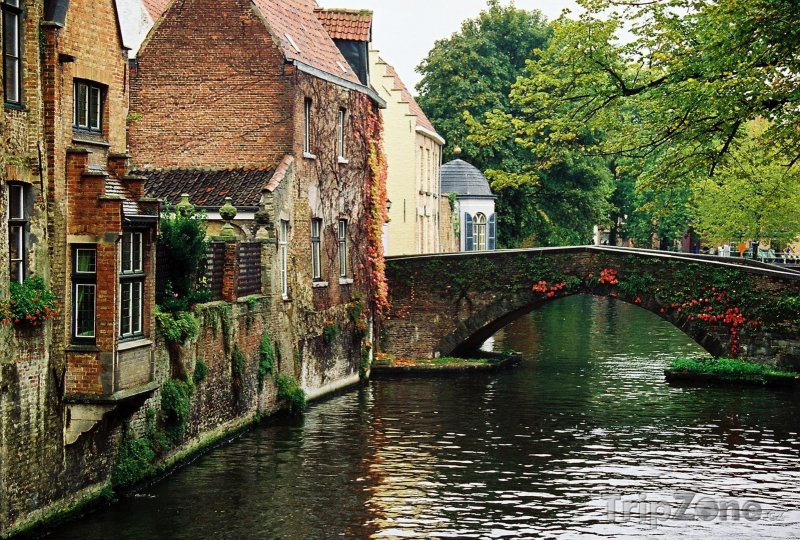 Byli jsme velice překvapeni, ale okay! Dále následovala na programu muzeum čokolády a taky hranolek. Prvně šla na řadu čokoška. Bylo to velice zajímavé. A ochutnávka byla božská! :3
Aji hranolky byly zajímavé, i zde jsme dostaly ochutnávku zdarma. V hranolkách jsme dokonce zbaštily celou porci pro pět lidí ve dvou. Why not?
Následovala projížďka na kanále po Bruggách, to bylo super! Všechny ty dokonalé stavby kolem nás, žádní lidi kolem, projíždíme se po vodě, kolem labutě a já fotící úplně všechno. Pak mi ale začal zvonit telefon - vrněla mi ledvinka. Volal mi táta, dvakrát. Samozřejmě jsem to nevzala, v tu chvíli to snad ani nešlo. :D
Potom už jsme se vraceli k busu. Cestou jsem plašila holuby, chtěla jsem si jednoho chtit a upíct si ho. Žel bohu... Ani jednou se mi to nepodařilo. :(
Hup do busu a směr Francie hotel F1 kdesi blízko Calais, odkud nám měl následující den jet vlak Euro tunelem do naší milované a zbožňované ANGLIE! Kam jsem se už nehorázně těšila.
So...
Dojeli jsme k hotelu, cestou jsem s epřežrala bonbonů a začalo mi být maličko zle, ale snažila jsem se klidně pozorovat okolí a snažit se nezešílet faktem, že zítra touhle dobou už budeme v Anglii!
Pokoj vypadal takhle - manželská postel uprostřed, v rohu stolek a telka, v druhém umyvadlo a zrcadlo. A nad tou manželskou ještě jedna vrchní. Vcelku to ušlo.
Umyla jsem se, což vůbec nebylo tak strašné, jak jsem původně očekávala. Naprosto normální sprcha a nic mě nechtělo dezinfikovat nebo vcucávat. Just easy! ;-*
A pak jsme šly spát. Jip, nepříliš uveřejnitelné detaily jsem vynechala, radši. :D
Vyspala jsem se pohádkově vzhledem k té předchozí noci v buse. Na snídani jsem spápla bagetu s nutelou a tryskem jsem s epřesunula před hotel, kde už všichni čekali. Následovalo hromadné foto, vždyť to znáte, to se na zájezdech prostě musí.
Dále jsme pokračovali k tunelu Euro tunelu do Calais! Byli jsme celí natěšení na Anglii a já točila, kde se jenom dalo. Záchody, tyče, celnici - kde se fotit nesmělo. XD
Taky jsme prošli celní pasovou kontrolou, která naštěstí proběhla v pořádku, pas měli všichni. Ale nervíky se také vyskytovaly, to né že né.
Zase jsme naskákali zpátky do autobusu a hezky se jelo dál. Už jsme se blížili k takové "korbě" výškově jen o něco vyšší než náš bus a šířkově taky nějak tak. Vjezd do této ohromně podivné věci mám natočen na mobilu, ale dávat ho sem radši nebudu. Mám tam aji policistův vystrčený zadek, vůbec nechápu, proč jsem takovou kravinu točila. :-D
Okey, tak jsme tam vjeli. Bylo to velice podivné a zajímavé, žluté, divnější pocit není. Dojeli jsme k takové "uzavřenině" (Ty moje slova xD) a tam bus zastavil.
Bylo nám řečeno, že klíďo můžeme vystoupit z busu a jít se tam projít kolem busu. Samozřejmě že jsme hnedka vyletěly ven! Všechno jsem tam fotila, i když bylo za okýnkama vidět jen tma a jen a jen tma. Tunel jsem si představovala asi maličko jinak, ale okeeey. :D Hlavně ten pocit, že se řítíme pod mořem - pod Lamanšem! Celé se to kývalo, prostě jsme jeli, asi tak půl hodiny? Nestopovala jsem to...
A tu ránu jsme tam byli! My zase rychle do busu a to už jsme vyjeli ven! Na světlo! Do nejúžasnější země Evropy! Do ráje! Do Anglie! <3
A já byla mrtvá. Moje nejvíc oblíbená a nejúžasněji nejbožejší země ever přede mnou, viděla jsem to na vlastní oči! Awwww! :3 Opravdu úžasný pocit, takový nepoznáte, tohle je splnění snu. Snu, jež mi v hlavě přebývá už nějaký ten rok. A teď se to konečně podařilo! Nezapomenutelné.
Ach bože, byla jsem tam, opravdu!
Po chvíli jsem si všimla, že jedeme vlevo! Teprve v té chvíli jsem si toho všimla! Bylo to děsivě divné, prostě hlavně na dálnici, nebyla jsem zvyklá, že vidím zprava auta. :D Byla jsem z toho unešena a celou dobu ty auta fotila. Chápete mě? Fotím auta v pravo. Já jsem ale pitomá...
A zamířili jsme na Stonehenge. Cestou jsem pozorovala úplně všechno - krajinu, auta, silnici, poslouchala jsem průvodcův výklad a tak dále. Bylo to super! <3 Just ENGLAND. Najednou mě ta historie začala zajímat. Dokonce si z toho aji něco pamatuju! To je tou Anglií, mě historie Anglie baví víc než jakákoli jiná.
Snonehenge se vynořila náhle za obzorem, ani nevím jak. Prostě tam najednou byly ty "šutry" a za chvíli to celé a kolem spousta lidí. Ještě jsme ale tak dva kilometry jeli dál po silnici a teprve potom jsme zabočili doprava a zaparkovali vedle nějaké budovy.
Od busu jsme pokračovali cestičkou k té stavbě a tam jsme nasedli na mini bus, který nás zavezl až přímo ke Stonehenge! Byli jsme tam!!!
Hnedka jsem začala všechno fotit, jak taky jinak, že? Ale děsivě tam foukalo, tudíž na většině fotek vypadám jako eliptický kužel s ježčími bodlinami. Když to nazvu lépe, vypadám tam jak debil, toť vše. ;-)
Nafotila jsem tam opravdu skvělé fotky, bohužel pro vás - neuveřejnitelné.
No, v obchůdku jsme samozřejmě strávily věčnost a následovně ještě zamířily do muzea, kde mě napadlo podívat se na časomíru - též zvanou telefon. A... Měly jsme minutu do srazu!
Mno, jaksi jsme to prolítly a východem mazaly k busu, který nebyl zase úplně blízko.
Jo, přišly jsme jen tak tak, ale ne pozdě. Což je úctyhodné. A teď prosím bujarý potlesk! Nebo spíš upřímně hluboký potlesk! HRůůůůůůůů! Pozdními příchody jsme se staly přímo pověstné.
Okey, vraťme se k věci, která je v tuto chvíli cesta do Plymouth, našeho stěžejního sídliště.
Za pár hodin jsme tam opravdu dorazili, celí čilí a ready pro rozchod a nákupy! A k tomu taky došlo, ovšem až po prohlídce skvělého přístavního akvária, jež bylo skvostné! Plymouth nás uvítal loděmi a hlavně dokonalým výhledem na moře, jehož jsem se nikdy nenabažila. Musím to dohnat příště. ;-) Plymouth je prostě nádherné město, zamilovala jsem se do něj.
Chtěla bych se tam nastěhovat.
(Žralok požírající hamburger! :D)
Prošly jsme si tedy akvárko a následovně zamířily na rozchod do centra. Hned na začátku nás zdržel zavřený most, zrovna proplouvala nějaká pitomá loď. Každopádně nám to sebralo asi tak pět minut. :P
Ale potom už jsme směle vyrazily podél pobřeží a s výhledem na pěkný nápis AHOY na ceduli, jehož jsem směle vyfotila. Došly jsme na místo úplného zatmění slunce v roce 1999 a já hudrala, že jsem tam nemohla v tej chvíli být. Mno, byly mi tři měsíce, to by mě to asi ani příliš nezajímalo. ASI!
Ale okay, podél pobřeží a dokonalého výhledu na moře jsme se dostaly až k jakémusi parku, u něhož stála boží budka! Červená! Anglická! První naše spatřená! První anglická budka, kterou jsem v životě viděla!
Co jsem tedy neudělala? Hned jsem se v ní začala fotit!
pokračování příště...